TOP ASIA plastic packaging MANUFACTURER
OEM Since 1998, Plastic Packaging Manufacturer in China and Cambodia.
25 Years Plastic Packaging Manufacturer
Sustainable food-grade packaging. Both biodegradable and oxo-degradable are available. Ziploc's Chinese manufacturer.
Top Asian HDPE/LDPE/PP/PLA packaging OEM manufacturer specialized in wholesale. 70% of our products are exported overseas.
We are well-known express enterprises' (SF, Fedex, UPS and etc.) supplier. We also serve thousands of Amazon store owners.
A burgeoning category lunched in recent years. We supply commode liners / Emesis bags / Specimen bags / Patient belonging bags to large public hospitals throughout the U.S. Plastic medical packaging factory.
Four Self-Owned Factories In China And Cambodia.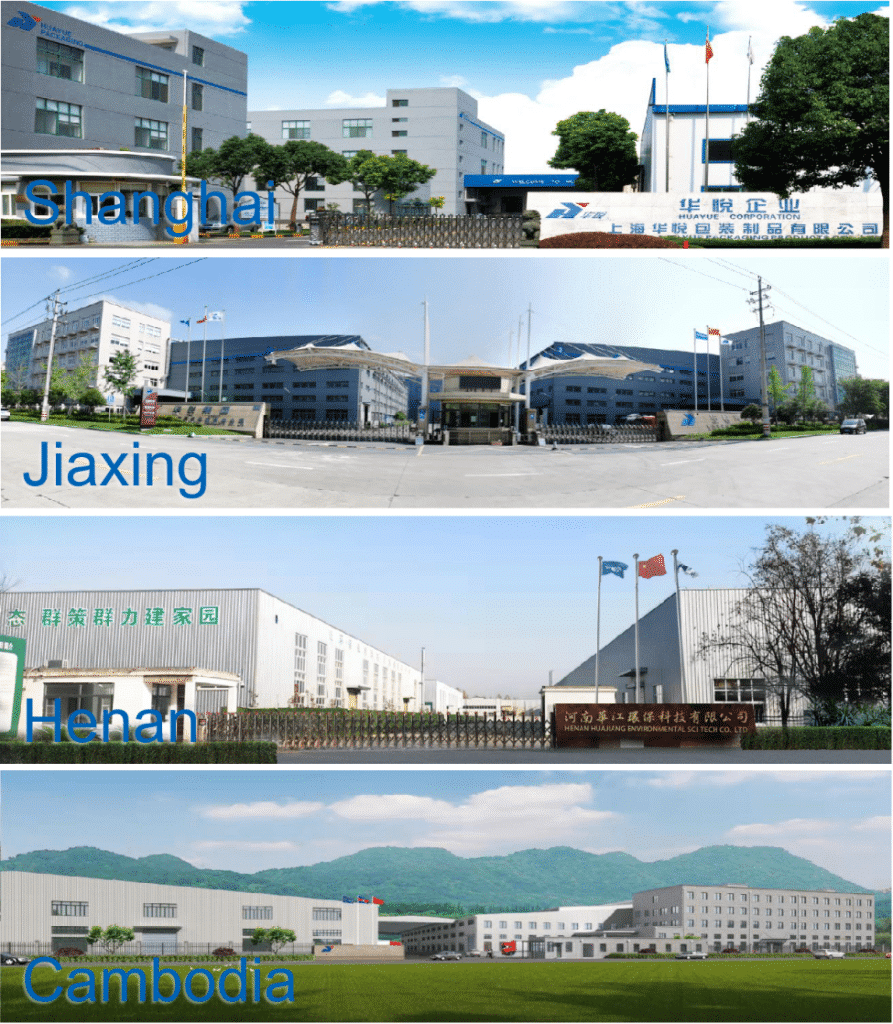 Yes, Huayue Group is a leading packaging manufacturer of fully biodegradable packaging in Asia. We use the latest fully biodegradable packaging materials (PLA+PBAT+corn starch/calcium powder) and the latest fully biodegradable packaging bag-making technology to provide you with high-quality and cost-effective fully biodegradable packaging products. Our range of biodegradable products includes handle bags, drawstring bags, garbage bags, zipper bags, food bags, express bags, etc., which can meet all of your environmentally friendly packaging needs.
We can provide any certificate. Huayue Group adheres customer-oriented philosophy, and provides customers with any certificates or documents that they need. In our 25 years of operation, we have obtained most of the mainstream certificates in the market, such as ISO system certification, biodegradable packaging certification, global food standard certification, etc. For details, please see our certificates page.
In response to tariff issues between China and United States, or various countries around the world, our group began a global strategy many years ago. As the plastic bag manufacturing industry supply chain shifts to Southeast Asia, our group's orders at our factory in Cambodia have increased rapidly. Our Cambodia factory is your best choice to avoid tariff issues.
Our Sales Manager will reply back within 24 hours. Plastic packaging manufacturer.